This voyage to Scottish islands has taken a number of years with many islands experienced, many to return to and still many to enjoy. My trimaran Trade Winds and a previous boat Pegasus have taken friends and myself on many wonderful journeys and three challenges that with the support from others have raised vital cash for charities.
Thank you
Alan Rankin
2006 Solo Round Scotland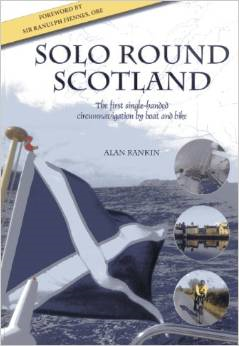 The first full circumnavigation of Scotland and its islands by boat and bike. Sailing 1,000 miles from Kirkcudbright in the Solway Firth then out passing Islay, the Hebrides, St Kilda, Orkney islands and landing at Blyth then cycling the 165 miles back to Kirkcudbright. All good fun and nobody else has tried it since…..
A full colour illustrated book of the challenge was published in 2010 and is available at Amazon Solo Round Scotland and ideal for Christmas presents, birthday presents and any old excuse. Royalties from the book go to Ocean Youth Trust Scotland and Parkinson's UK
2013 Solo Round Britain
Going one step further than around Scotland Solo Round Britain seemed the obvious thing to do. Sailing from Ullapool Trade Winds took me 2,400 miles around the UK and Ireland. The route took me outside everything so passing outside; The Shetlands, south the length of the North Sea coast to The English Channel passing The Scilly Isles and outside Ireland, St Kilda and returning to Ullapool. To spice things up I stopped at ten ports and ran a 10k to help raise funds for Parkinson's UK  Ocean Youth Trust Scotland, MS Society, British Heart Foundation and Cancer Research UK.
The website Solo Round Britain  shows the route map and background the challenge.
2016 Kidnapped130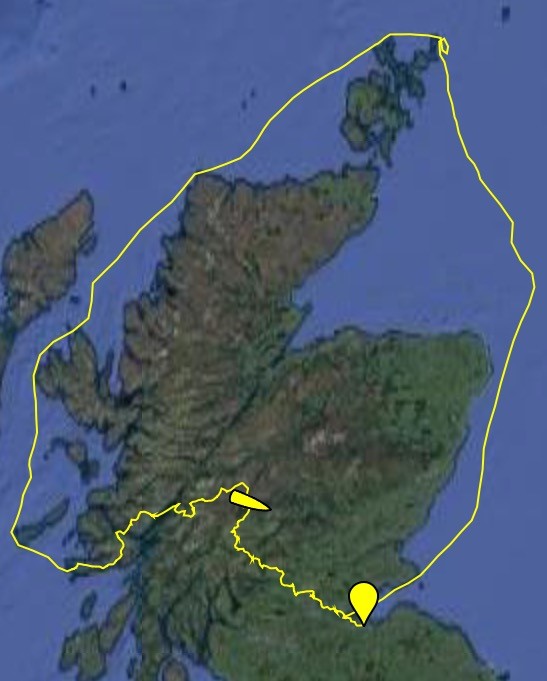 2016 was the 130th anniversary since Robert Louis Stevenson's classic book Kidnapped. With the help of Willie Gibson and Richard Marshall we recreated the great adventure by sailing 500 miles from Port Edgar near Edinburgh northwards around Orkney and south down the Minch to land on the little island of Erraid near Mull. From there Willie and I set off and trekked the 270 miles back to Edinburgh. It was a wonderful adventure that allowed me to experience and live the book I have enjoyed since my childhood. Funds raised contributed to the work of Parkinson's UK and Ocean Youth Trust Scotland
The website Kidnapped130 has a tracker map and blog posts about the trip.