Introduction
Calve Island, gateway to Tobermory bay and quiet anchorage away from the buzz of Tobermory. The island is 1.2 miles (1.9 km) in length, and 0.5 miles (0.8 km) wide at its widest point. It is home to many popular dive sites and lost treasures and has a claim to fame when in 1984 a Calve Island stamp was issued. The island is owned by the Cotton family who make use of it in the summer months.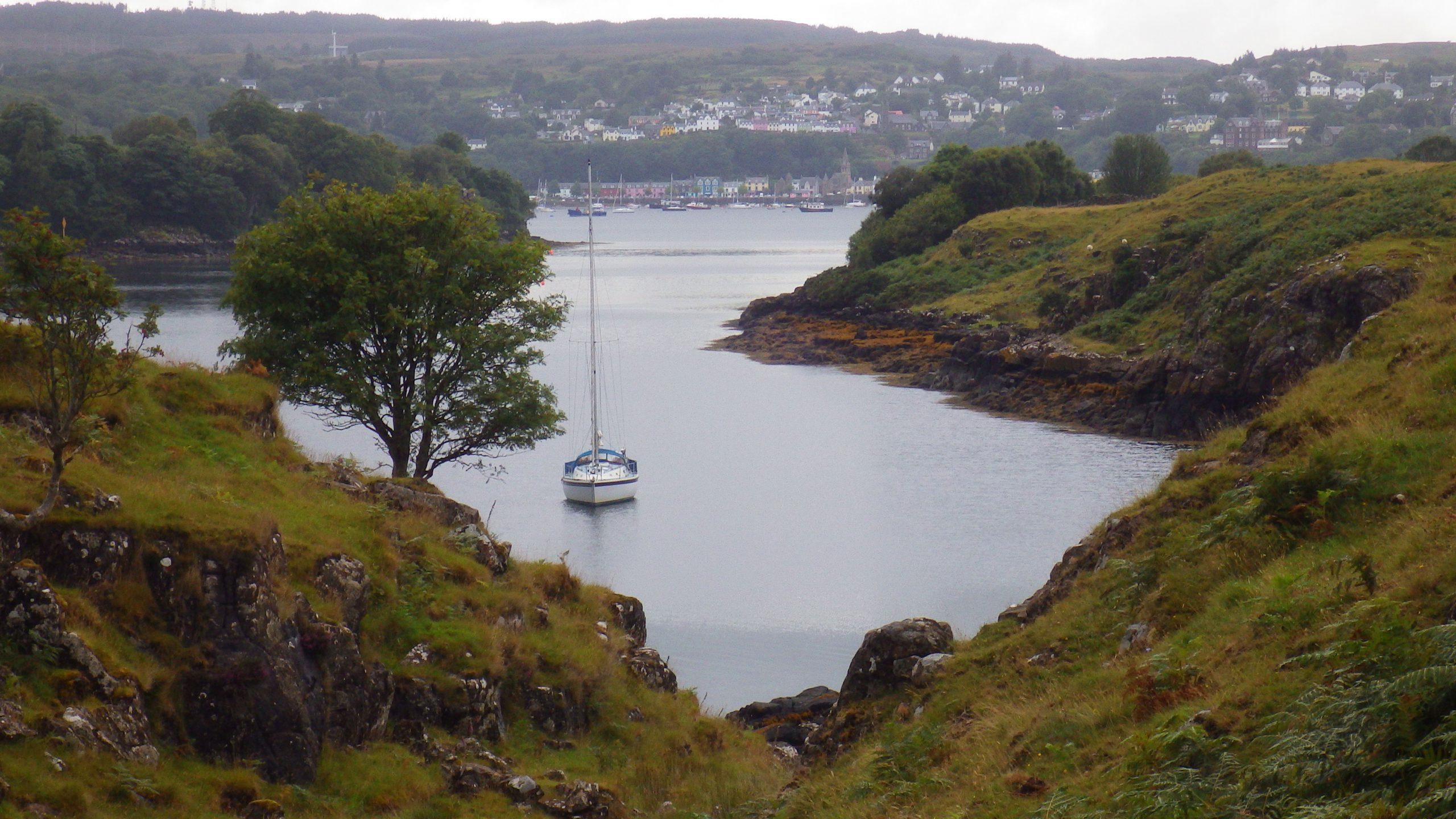 Information
This island visit was a double-island-visit, topping out Calve Island and its tidal outlier Cnap A' Chailbhe with sailing and running mates Willie Gibson and Richard Marshall.
Calve Island is an uninhabited Scottish island on the east coast of the Isle of Mull. Calve Island provides some shelter for Tobermory Bay and is separated from Mull by a narrow tidal channel that is passable with care at high water. The island is one of those little visited gems that is seen by the hundreds of thousands of people that visit Tobermory and the many thousands that pass on yachts and ferries, yet only few will step on its rocks and grasslands each year.
The Sound of Mull has been a well tramped waterway for me over the 25+ years of sailing the west coast to Scottish Islands. On many occasions I have sailed into Tobermory Bay and not given Calve Island a second thought. On this occasion we were on Nordic Fulmar with Richard Marshall as skip and Willie Gibson and I as crew. Richard took Nordic Fulmar into Tobermory Bay and we turned sharp to port and headed up the narrowing channel between Calve and the Aros shoreline of Mull. None of us had been this far along the island. Normally it was the flesh pots of the pubs of Tobermory was the more appealing draw.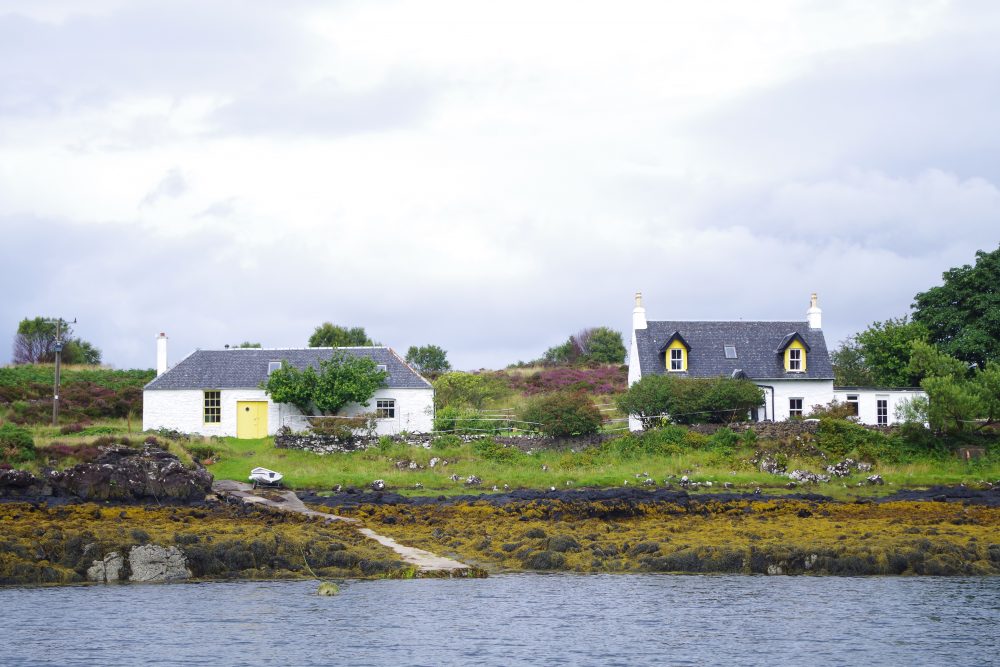 A lovely island house and outhouse cottage complete with private slipway appeared over to our left, this must, we thought, be the home of the island owners, the Cottons. We pressed on and found a snug corner under the tidal island of Cnap A' Chailbhe.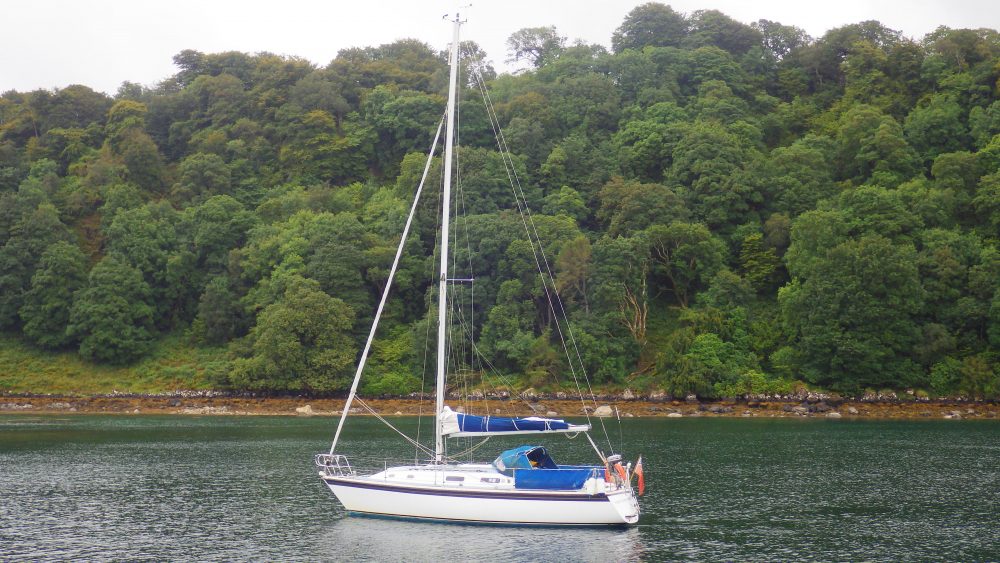 The little island forms the main breakwater to the north end of the Dorlinn A' Chailbhe channel. Content the anchor was holding we jumped in to the dinghy and rowed the short 20 meters or so to the rocky shore. Weathered black igneous rock greeted us, twisted and bent by deep time and bloody slippery when wet on a dropping tide!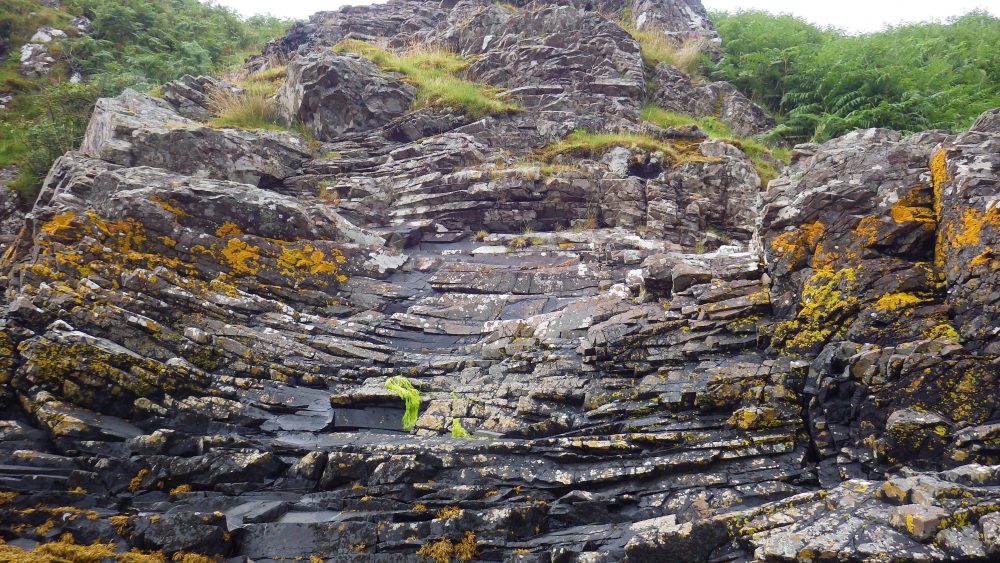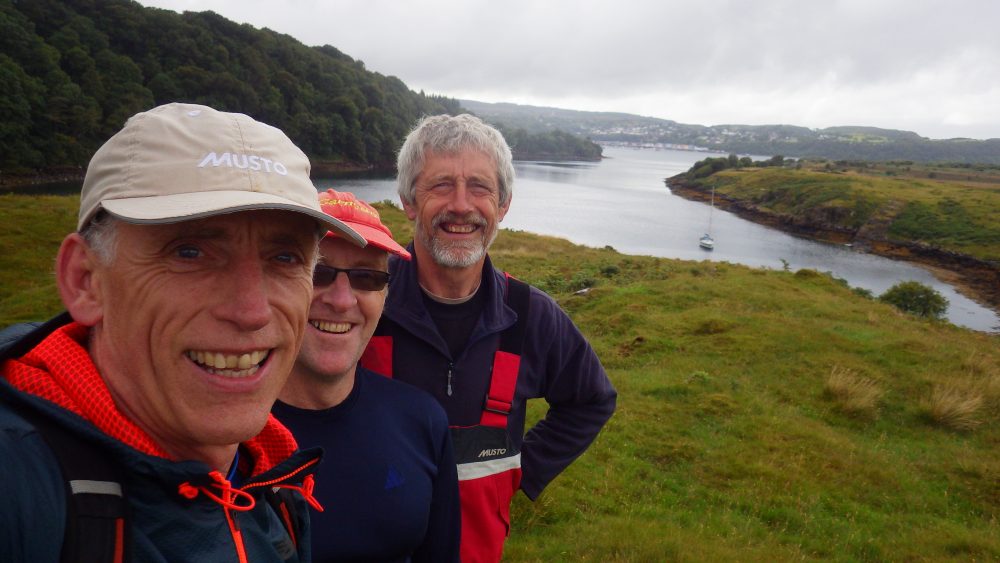 The three of us were up on top of Cnap A' Chailbhe in no time and savoured the moment of stepping onto an island that has been such an important landmark for our combined decades of sailing to Tobermory. From here the view east looked back down and cloudy and wet looking Sound of Mull. Turn 180 degrees and it was a very unusual view of Tobermory Bay and coloured shops and pubs.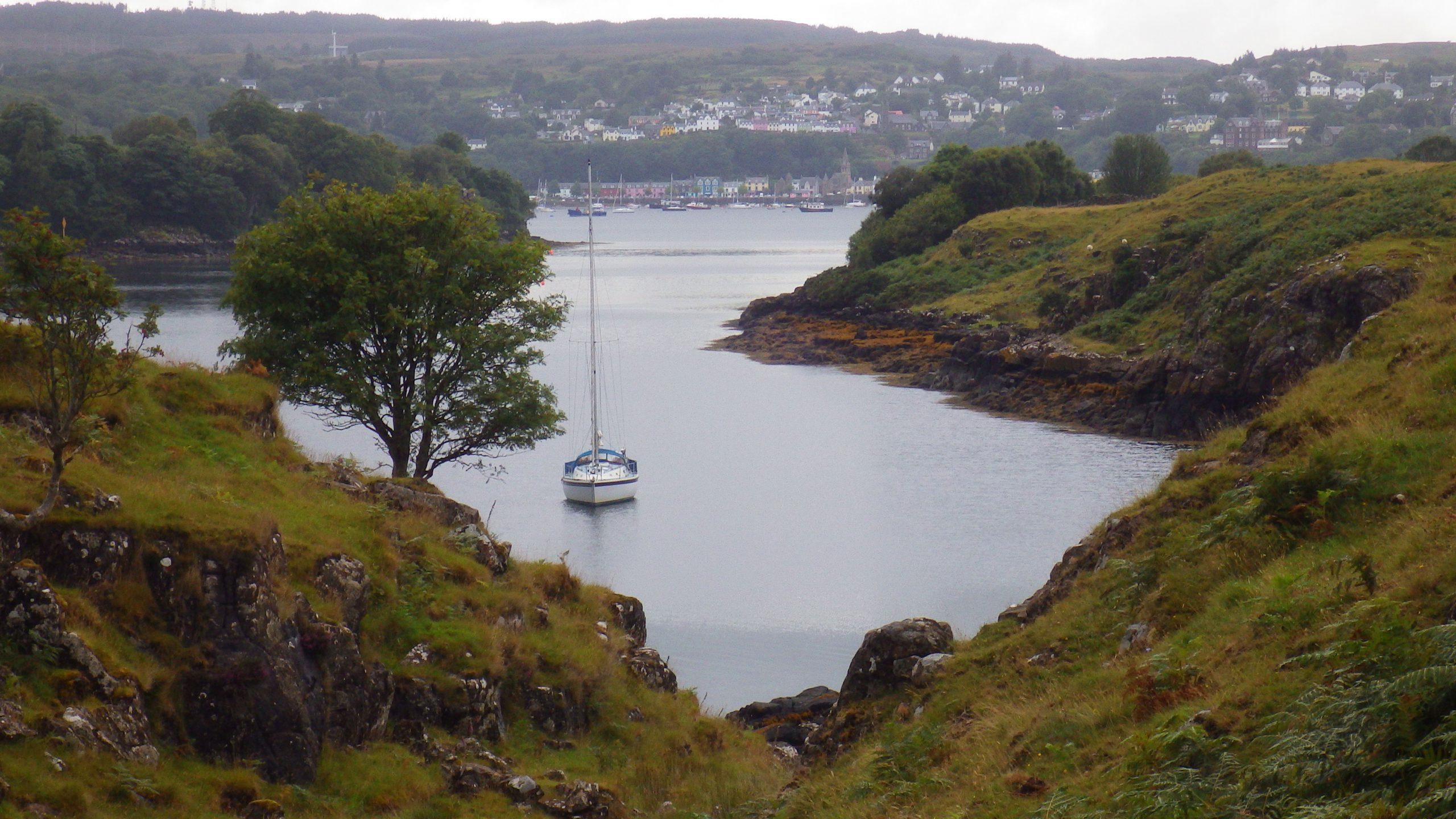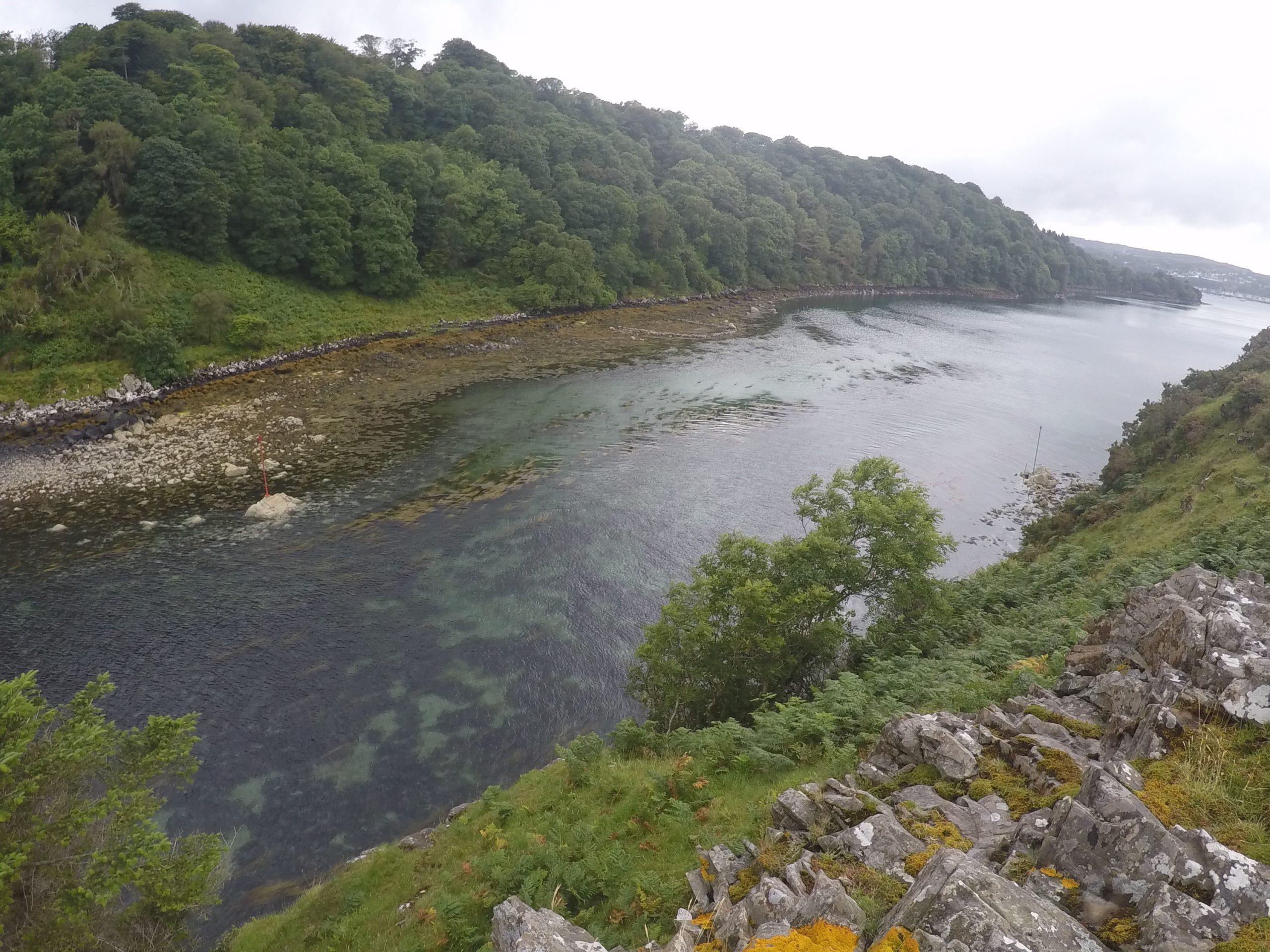 We ran over to the main Calve island and made our way to the highest point only to find my camera battery was flat. By now the rain that we had seen far off over the Sound of Mull was upon us. Annoyed that I did not have my trophy picture we raced back to the dinghy and back out to the comfort of the waiting Nordic Fulmar.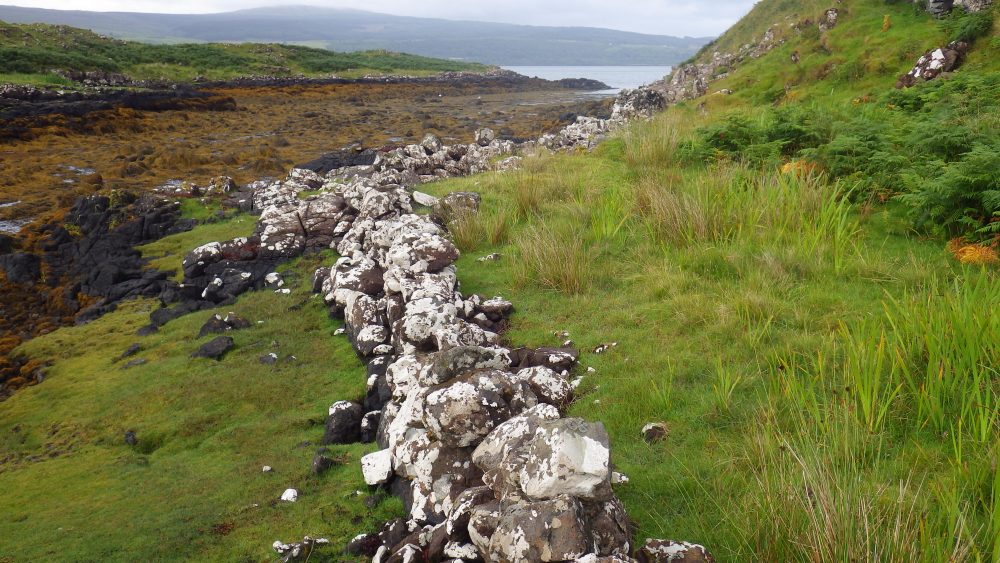 Calve Island conquered, one of those little Scottish islands that are passed by but worth a wander over, with a fully charged camera!
History
This is a popular island to dive from to seek out the wreck of The Pelican,  one of the first steel ships that can be found just off the island. Launched in Cork in 1850, the Pelican was eventually sold to the David MacBraynes shipping fleet and was used as a ferry on the west coast of Scotland routes. After many years of uneventful service, she ended her sailing days as a coal storage hulk in Tobermory Bay. On 6 December 1875 during a particularly severe gale, the Pelican broke her mooring lines and was blown across the bay onto the rocky shore of Calve Island. With her hull holed below the waterline, the Pelican slipped into the water and disappeared into the depths.
The most famous resident of the deep of Tobermory bay is the Florencia, part of the Spanish Armada. Fleeing from battle in 1588 she took to Tobermory Bay for shelter and to take on provisions. Folklore tells the tale that Donald Maclean, the local clan head, went aboard to claim payment but was unceremoniously locked up in the ships munitions store. (Rather odd place to lock up a prisoner!) MacLean managed to escape and before jumping ship managed to set a fire that blew the ship to pieces and sent her to her watery grave. She went down with a reported 30 million ducats in gold. Many hours have been clocked up by divers searching for this elusive and fabled treasure.
Calve Island is probably better known to philatelists as in 1984, the Royal Mail issued a postage stamp featuring a Bassett Hound and bearing the legend 'Calve Island, Tobermory'. Its 17p cost at the time made it legal to carry mail anywhere in Great Britain, although this one of a series of quirky island stamps was not recognised out with these shores.
Image Gallery
Video Gallery
Sorry – video still in production