Introduction
Gometra, a private island south side of Mull with locked gates and high fences!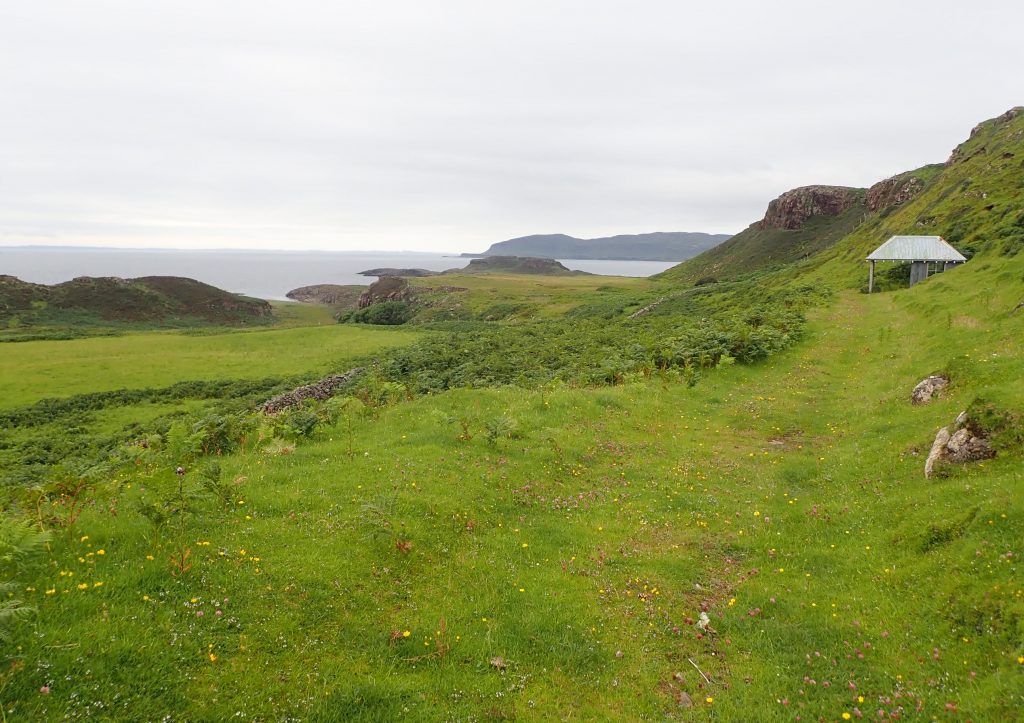 Information
Gometra
My visit to Gometra was long awaited. We nudged into Gometra harbour and set anchor on a blissful sunny calm evening. My trip ashore was a quick one of only one hour. In that time I had to draw the conclusion that this was an island that was not really opening its arms to welcome visitors.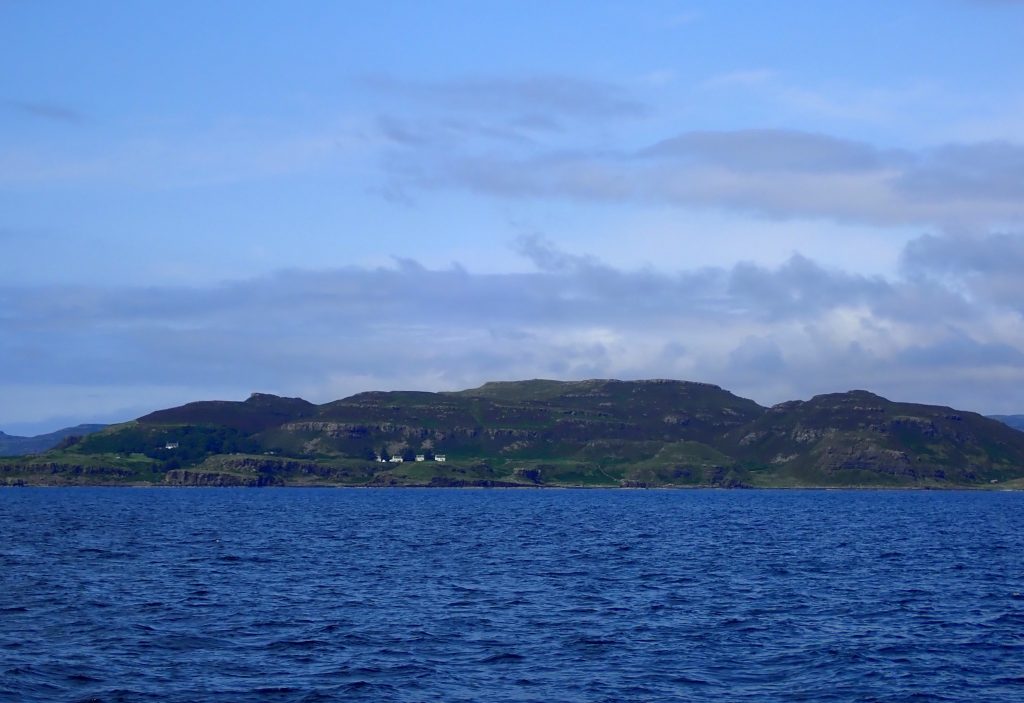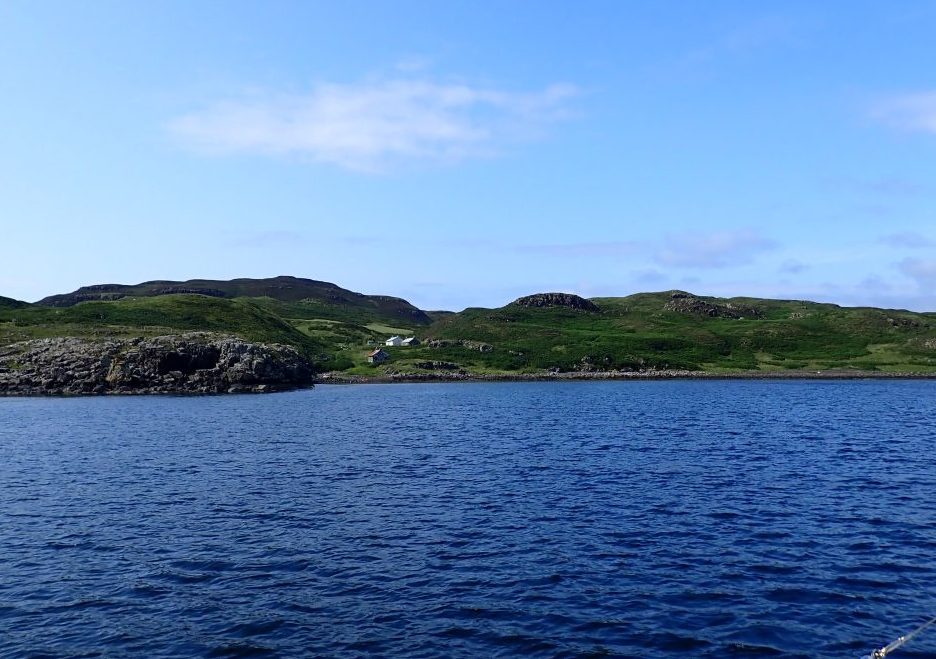 Geology and neighbouring islands
Gometra is like much of the landscape to the south west of Mull made of tertiary layers of lava flows, weathered over the millennia and shaped by glaciers. From Gometra you can see a host of islands including; Little Colonsay, Erisgeir, Jura, Colonsay, Islay, Iona, Staffa, Dubh Artach, Tiree, Dutchman's Cap, Dioghlum, Skerryvore, Lunga, Fladda, Gunna, Coll, South Uist, Ulva & Mull.
Gometra Harbour
Gometra Harbour was once the main landing point for the island with the only remains being a line of stones that once served as the landing pier.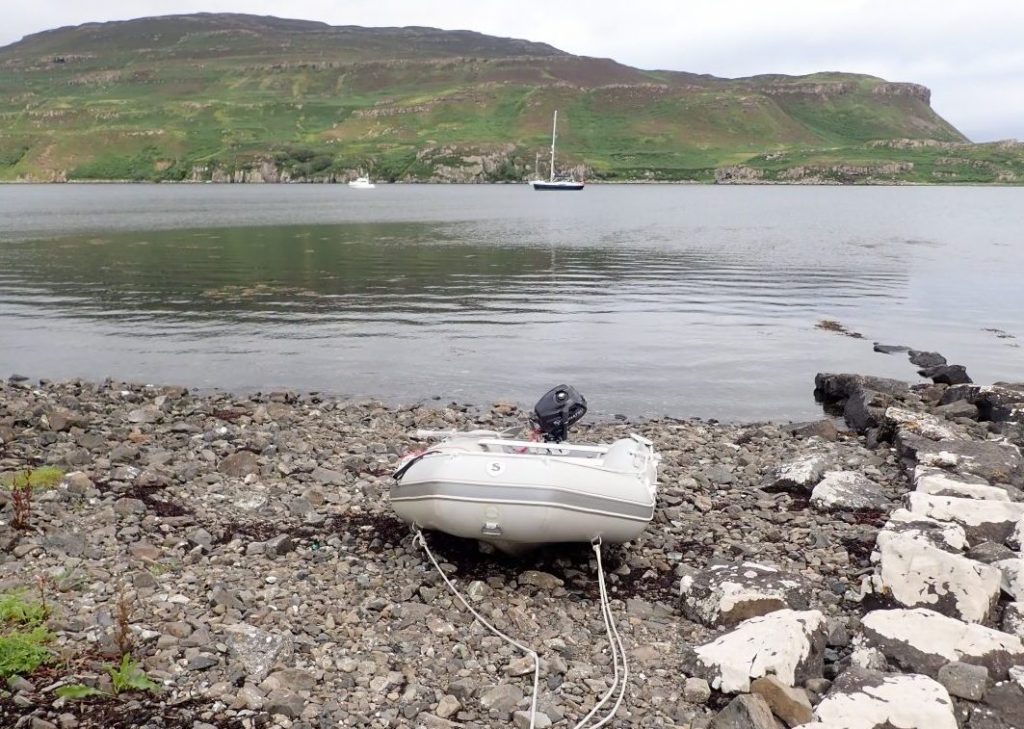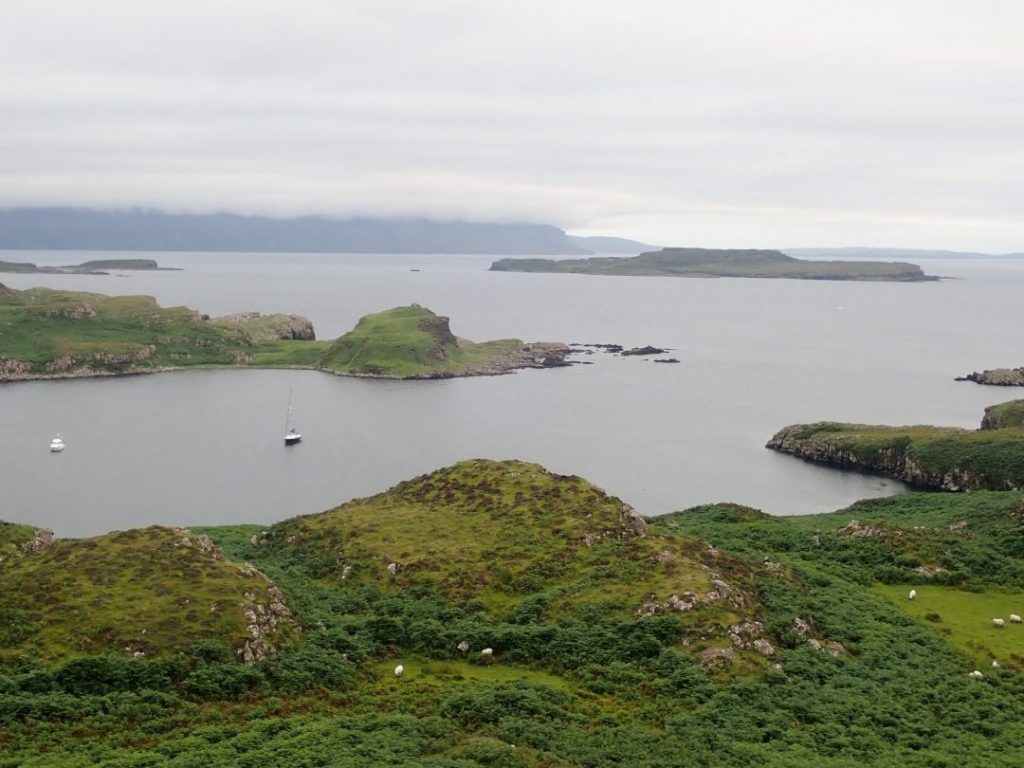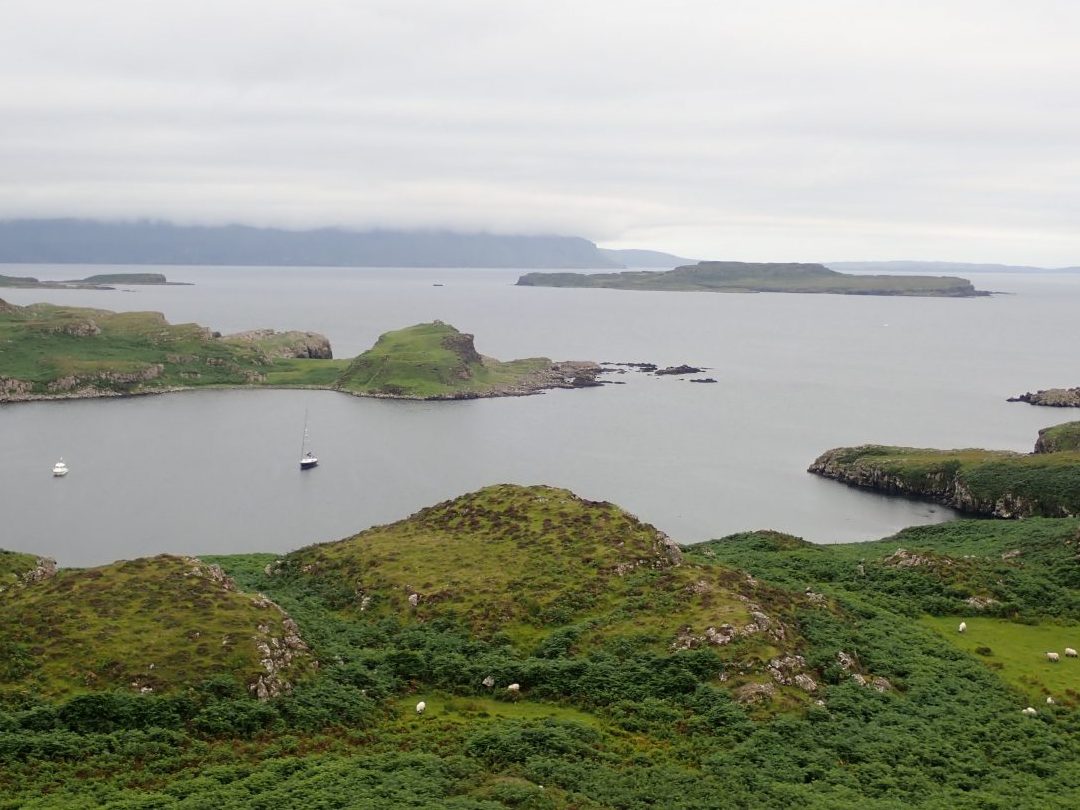 First Sign and Locked Gate
A few steps from the landing point I came face to face with the first of many hand-written signs. The sign requested, 'for safety reasons' the open grass area between cottages was not to be entered. Pedestrians were asked to follow the fence line to the track. The 'safe' fence line was over bouldered ground in deep chest high bracken. What's more, it was no doubt full of ticks.
Once the bracken had been hacked-through I came upon on a rough track suitable for a quad bike or tractor. It is here that you are presented with a combination locked gate. To the side of the locked gate is a small style gate for pedestrians. The gate was overgrown with bracken and required a good heave to open it against the thick intertwined foliage. Not a great start and an ominous introduction to Gometra.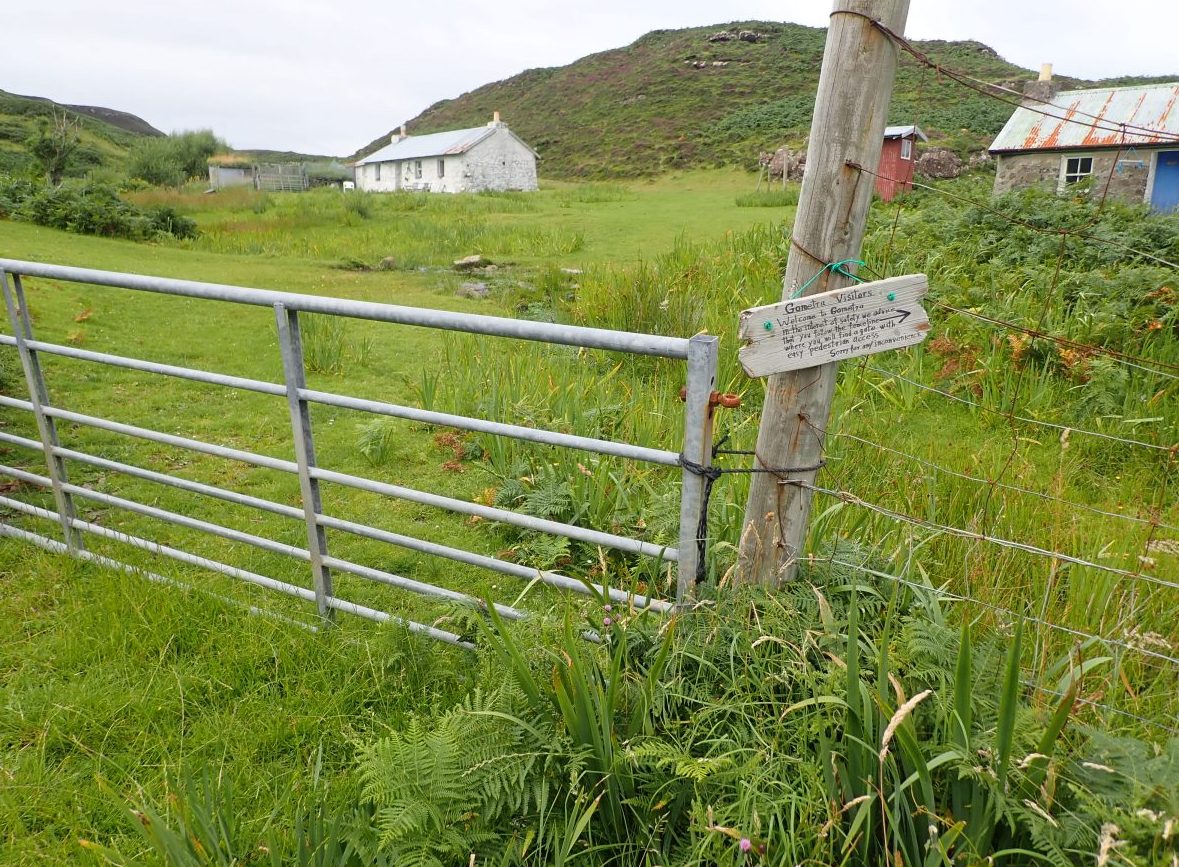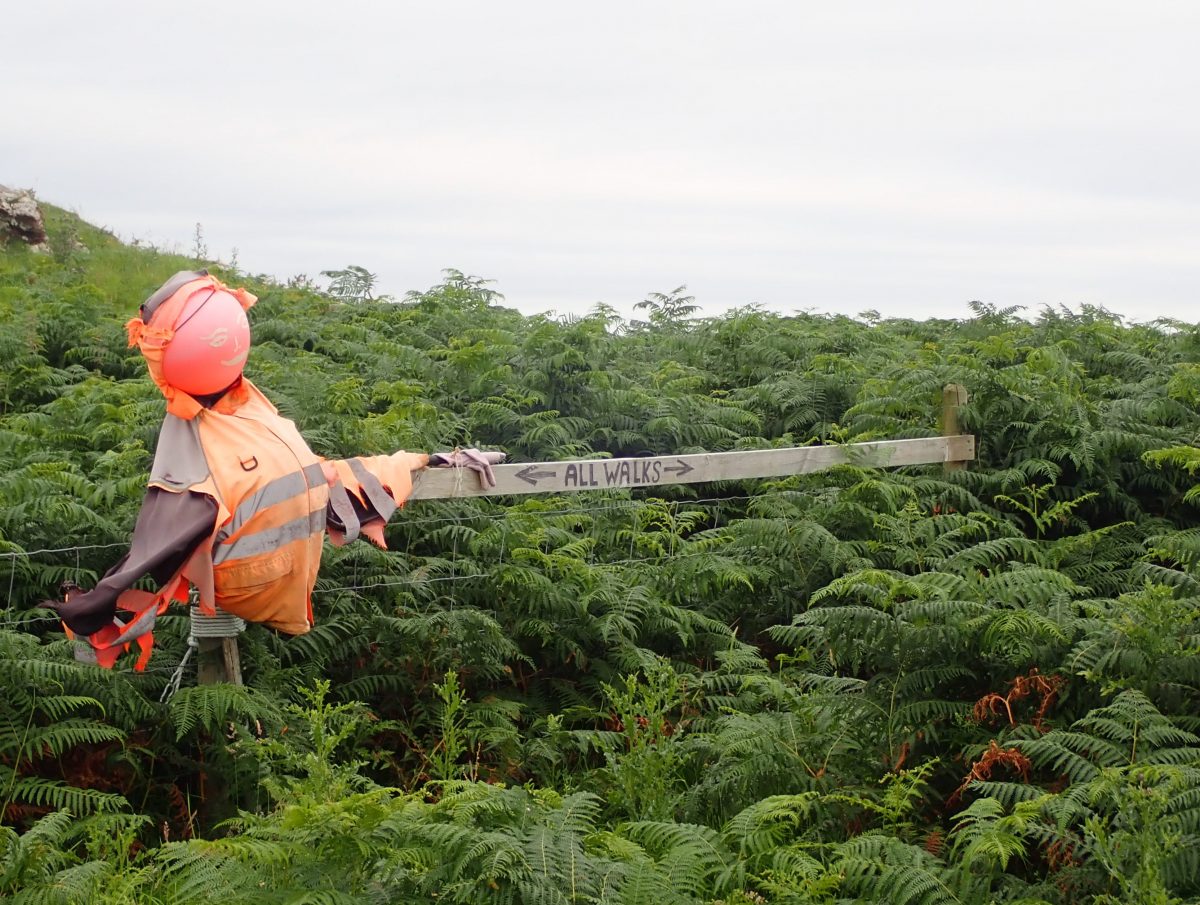 Rubha Dun Lasgain point
I set off from the harbour to follow the only track that is shown on OS maps. The track passes the old burial ground and on past Rubha Dun Lasgain point. From there the old Dun fort was visible from some wonderful sandy rocky foreshores.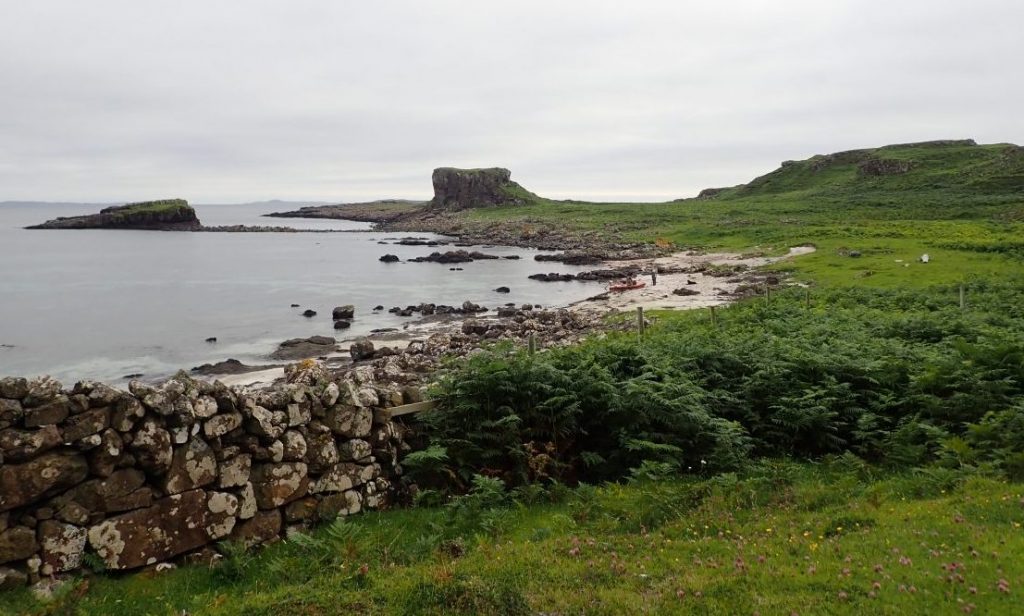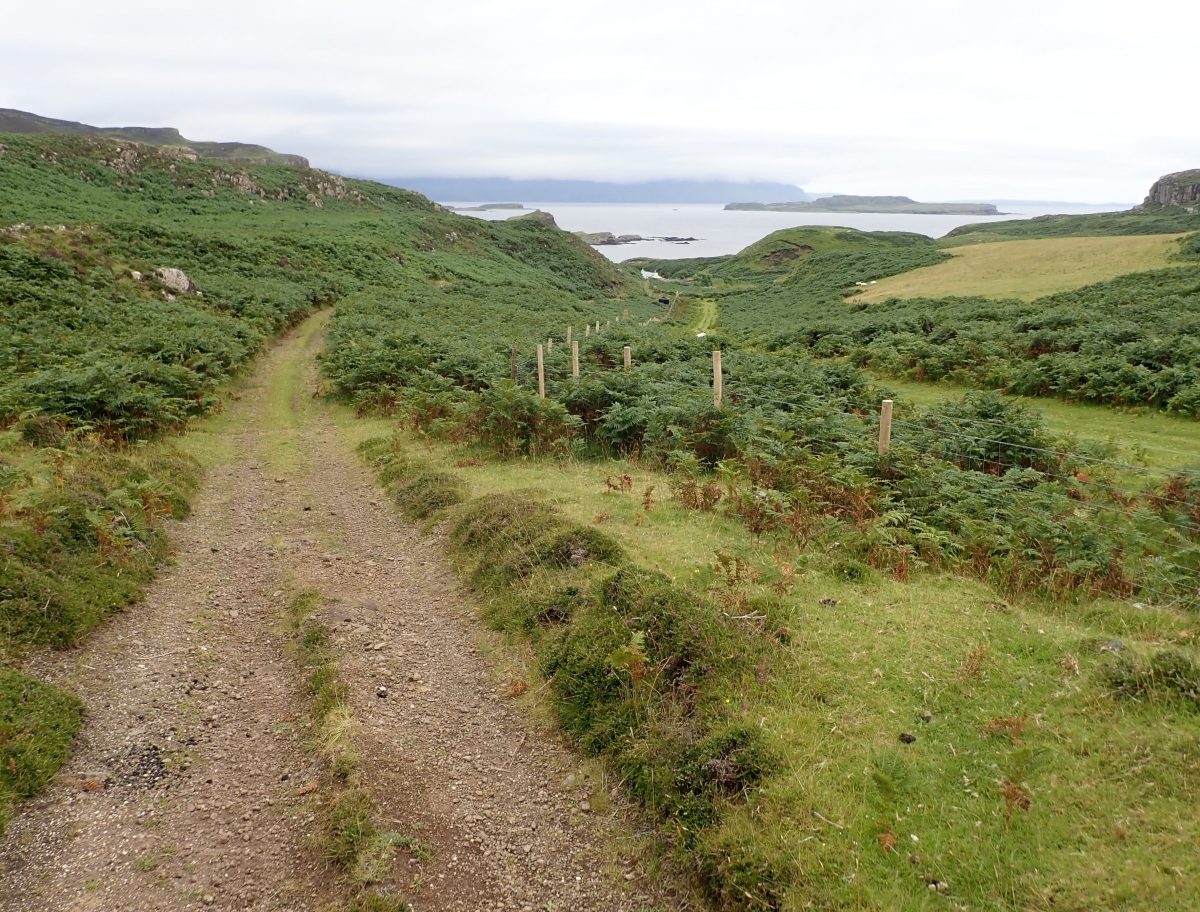 Gometra House
Further along the track I came to a row of small white cottages. There you are greeted with a sign asking visitors not to enter the private area. I obliged and took the path away to the left. This entailed a further fight with more thick bracken which in turn led to an open field. I crossed the field and made for the top corner that was close to the main Gometra House. There was no sign of life at all. I was on a tight time schedule and there was a distinct feeling of 'bugger off'. I decided to veer off and follow the separation in the bracken on towards the north west corner of the island.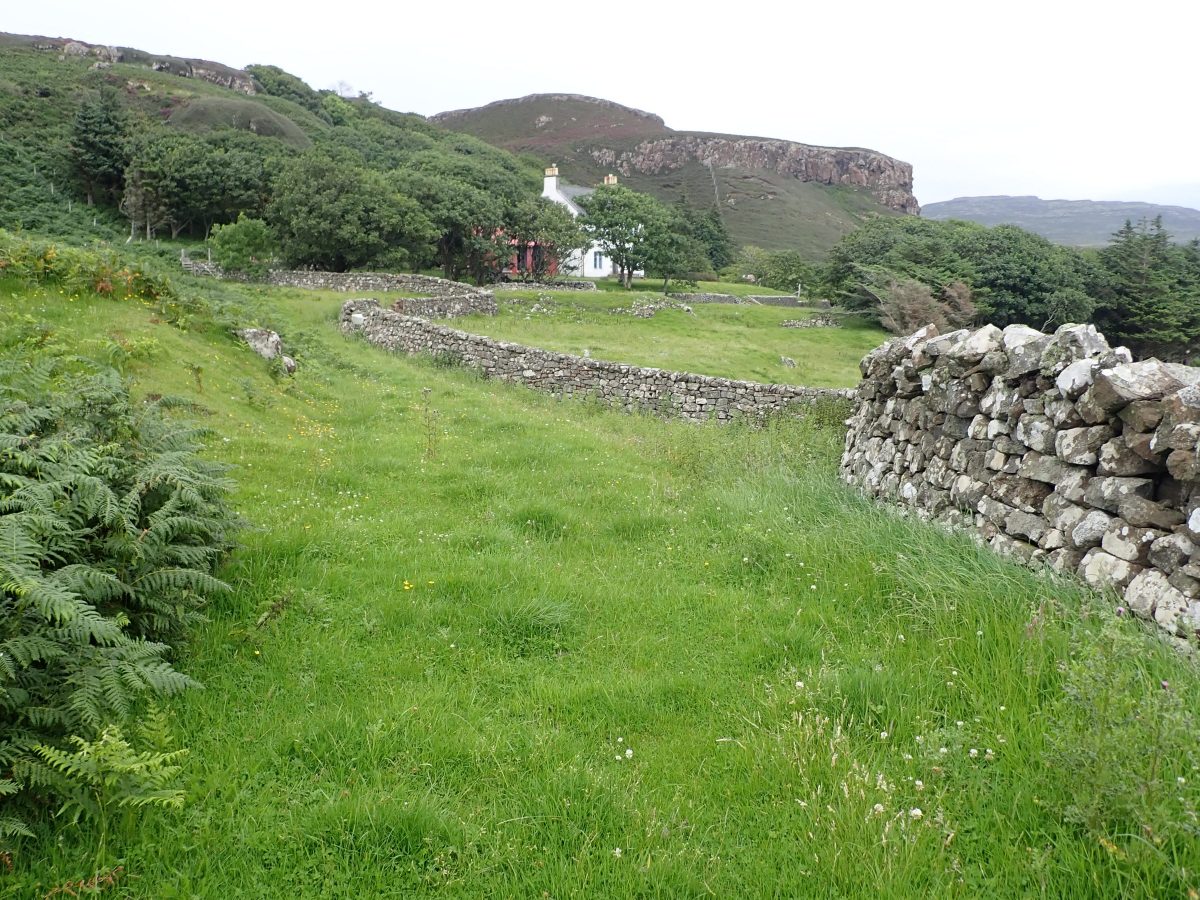 Route to summit blocked
The high point of 155m was above and to my right. I decided to look for grass shoots or gullies that I could nip up or contour upwards to what looked like heather and bracken wilderness.
On finding a narrow crag I scrambled up onto the next flat layer of lava bed. To my dismay I was greeted by a 2.5 m deer fence that ran all the way to the north and back to the south.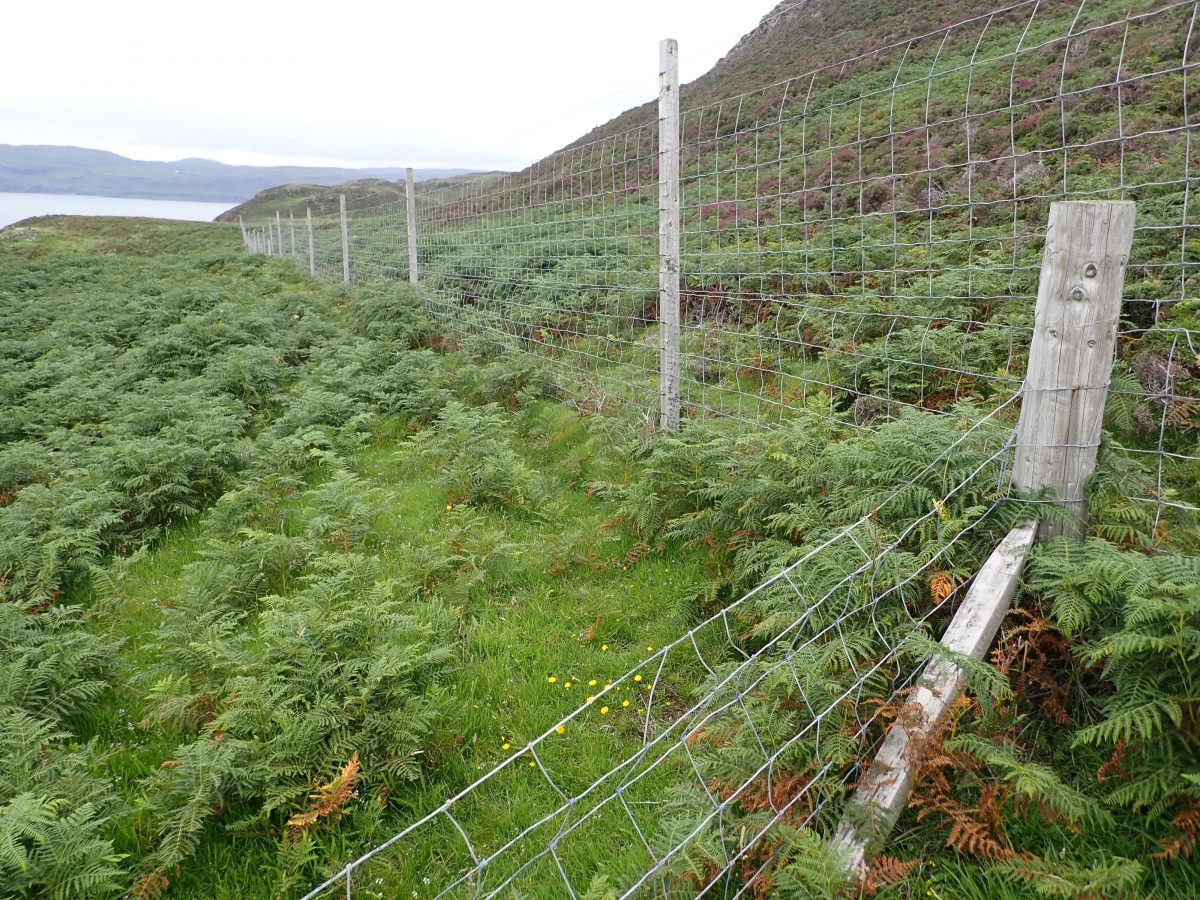 There was no way up so reluctantly I turned and set off down the steep slopes back the main track. I followed it on for a few yards and stopped overlooking Lon Mor bay. There was a small shed and beside it a beached yacht standing upright on large vertical wooden stobs. The clock was ticking, and I was by now thoroughly unimpressed with Gometra.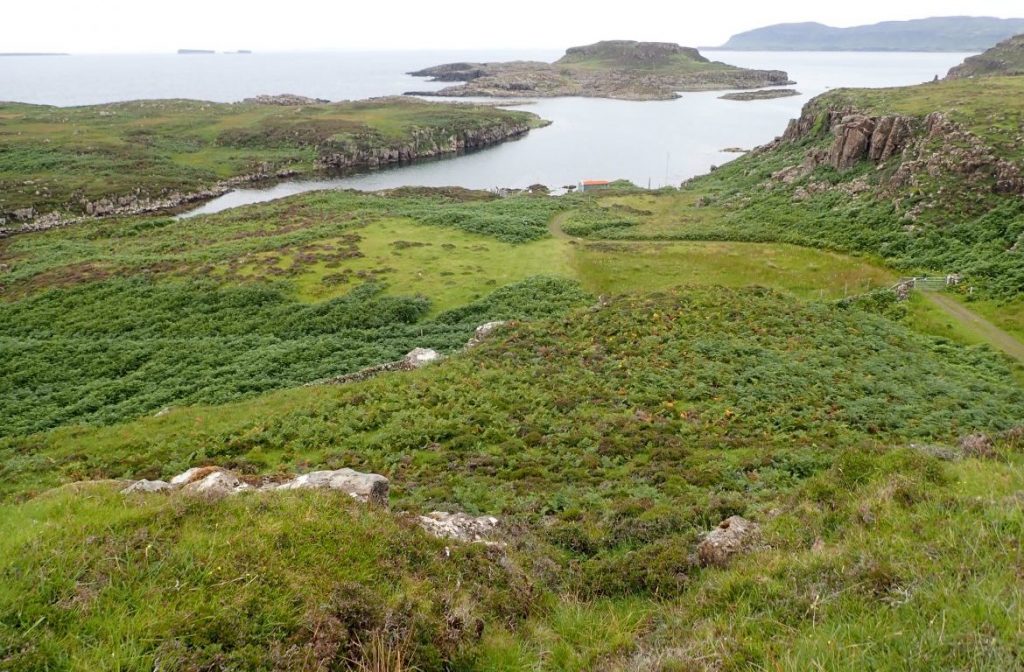 When is a gate not a gate?
On the way back I came to an absurd closed gate. The gate was made of ornate ironwork and of a design to impress. On top was set an anchor. The anchor looked ready to drop on your head. This was no bucket of water om the open door trick! Rather than risk being 'anchored' I stepped round the stone wall and carried on. By now I was giggling to myself!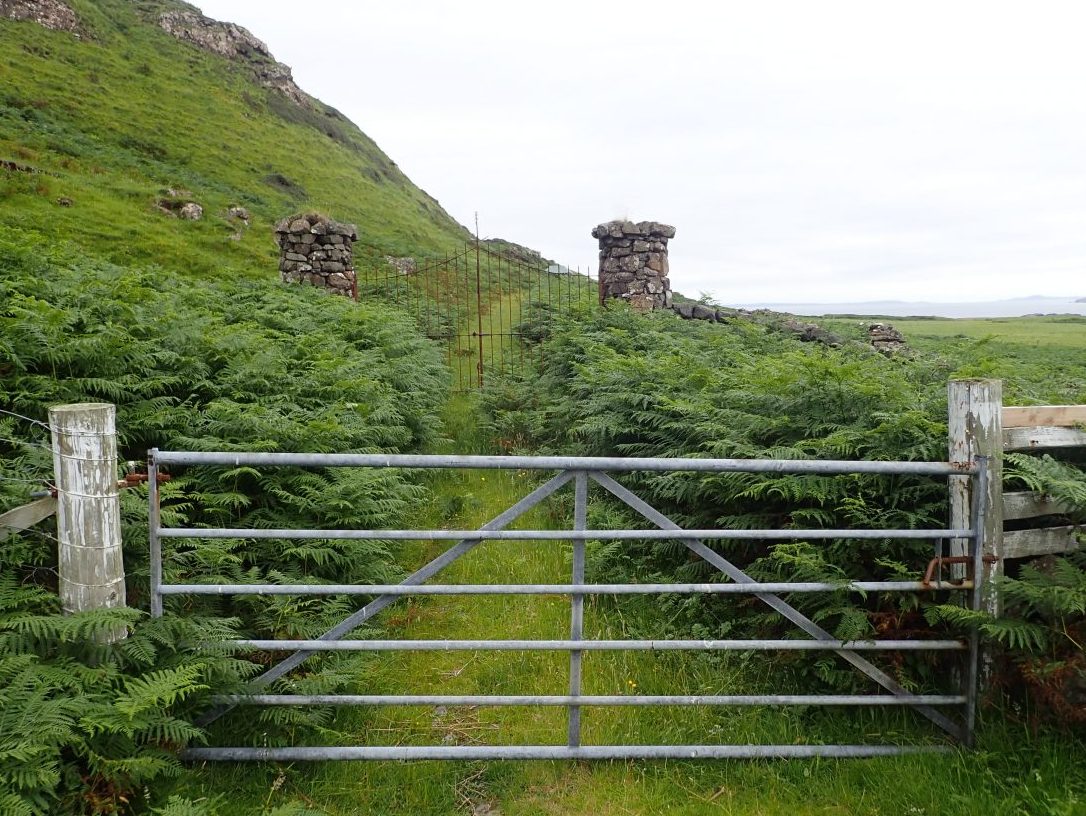 Beyond the gates stood a splendid summer house with views out to The Treshnish Isles, Staffa, Dutchmen's Cap, Iona and beyond.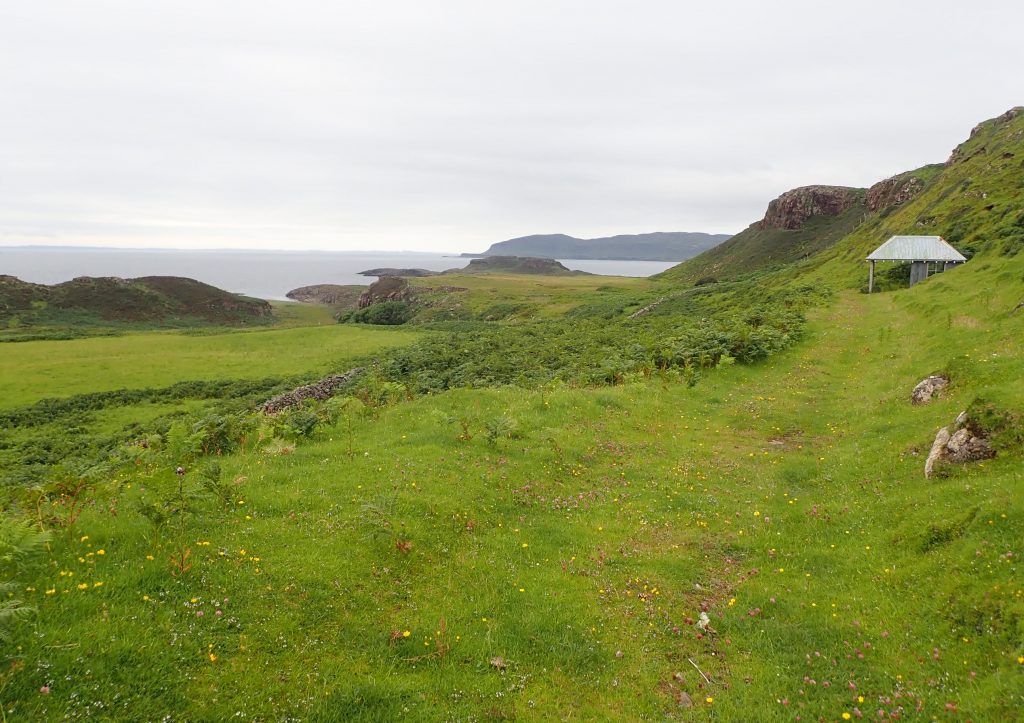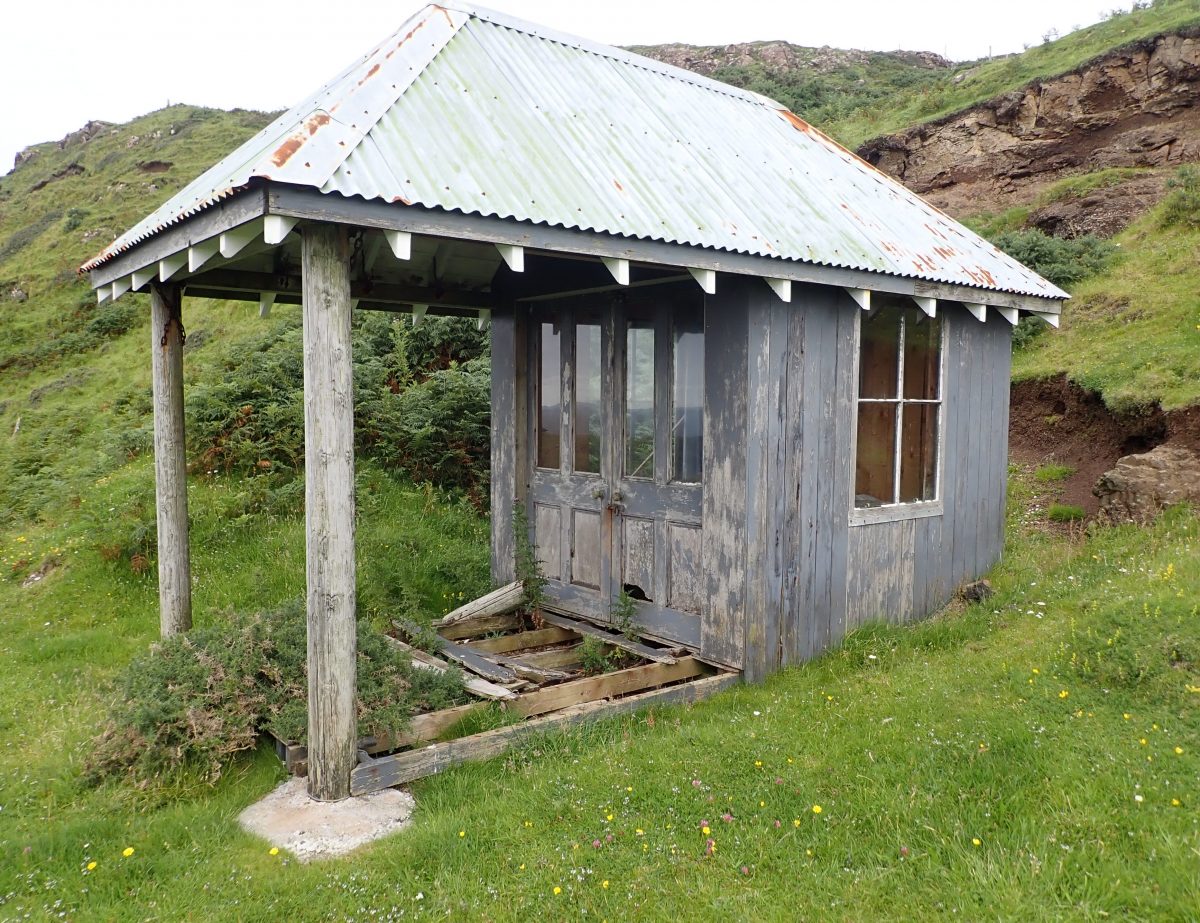 Return run to Gometra Harbour
I ran back the two miles or so the harbour. On the way I passed the island coup (dump). An old JCB and tractor stood rusting and rotting away alongside a sheets of discarded metal. It was a rather sad end to my visit.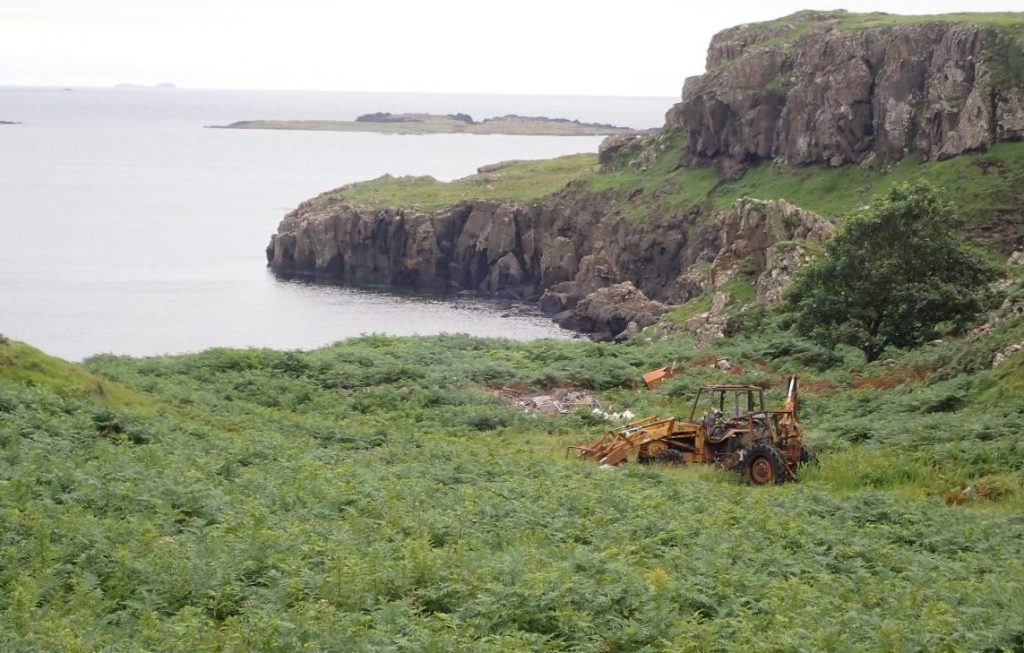 Further on I saw two people and a dog near a beached rubber dinghy. I stood on a high clump of rock and heather and looked down and waved. One instinctively knows when people are head down, and staring at the sand and their feet rather than acknowledge another person's presence. So what, and I made for the beach and Springtide.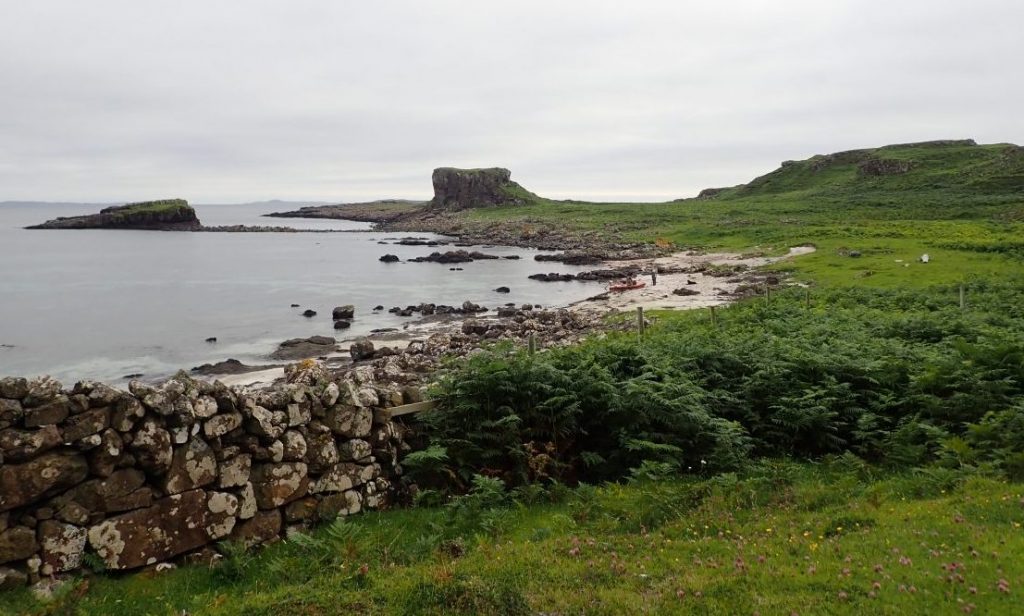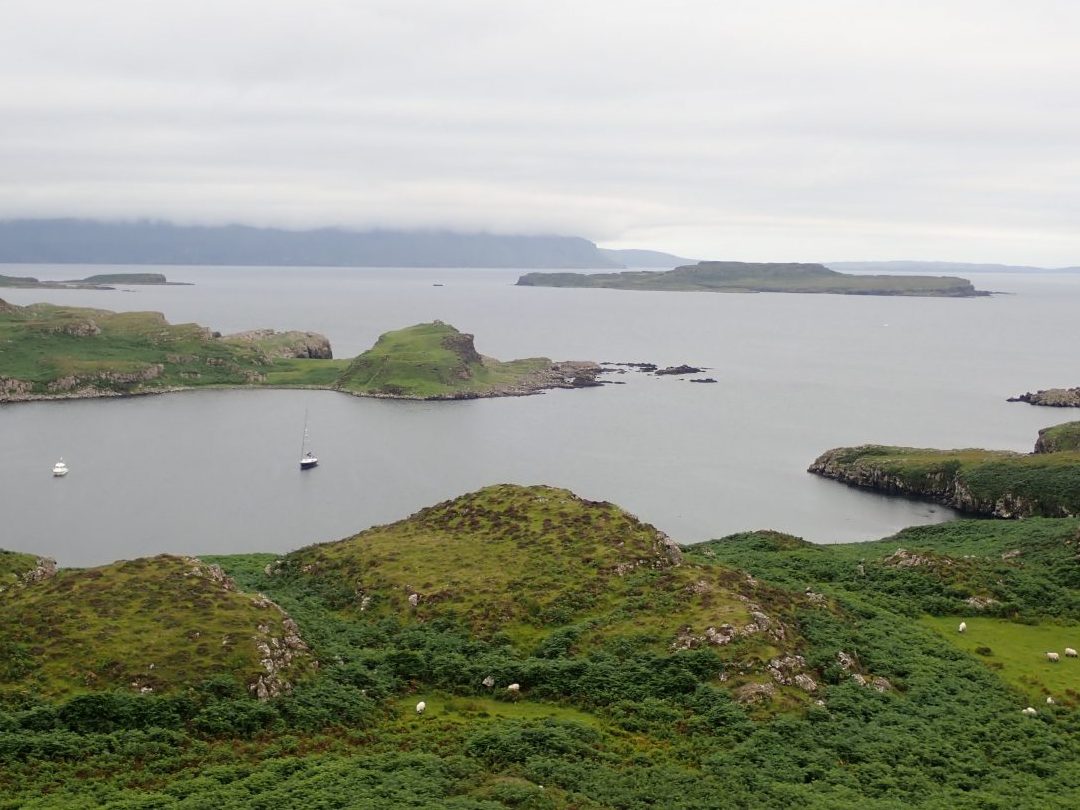 So that was Gometra, I ran on back to the dinghy and paddled back out to Springtide for a beer and to lament on a very unsatisfactory visit to Gometra.
History
Gometra (Scottish Gaelic: Gòmastra) is an island in the Inner Hebrides of Scotland, lying west of Mull. It lies immediately west of Ulva, to which it is linked by a bridge, and at low tide also by a beach. It is approximately 425 hectares (1.64 sq mi) in size.
According to Gillies (1906) Gometra is from the Norse gottr + madr + ey and means "The good-man's island" or "God-man's island". The Norse Goðrmaðray may also mean "warrior priest's island". The Gaelic Gu mòr traigh meaning "only at low tide" has been proposed as the meaning of the name. Mediaeval charters render the name "Gomedrach".
The island is agricultural, formerly growing grain for the monastery on Iona. Once home to a population of over a hundred, it is now down to a tight-knit community of a handful of people, up to a thousand black face sheep, highland cattle, pigs, horses, a flock of feral goats, and red deer. Historical sites on the island include an old burial ground, the remains of two duns and old settlements. It has no school, doctor, or ferry.
Gometra changing ownerships
The island became part of the Kingdom of the Isles, during the Norse era. Whereas nearby Ulva and Staffa belonged to the MacQuarries from the 10th century, Gometra became a possession of the Iona monastery prior to passing into the hands of the Duke of Argyll.
In 1821 Ulva was sold by the trustees of the MacDonalds of Staffa to Lt-General Charles MacQuarrie (brother of General Lachlan MacQuarrie), and after his death was bought in 1835 by Francis William Clark of Ulva, a lawyer from Stirling who began a brutal clearance of a substantial proportion of the inhabitants of Ulva within a few years. However the MacDonalds of Staffa retained Gometra until 1858 when it was sold to Donald MacLean, who built Gometra House.
In 1932, the island was sold to the English mountaineer Hugh Ruttledge, who had taken early retirement from the Indian Civil Service and planned a life as a farmer. While living on the island, Ruttledge led two British expeditions to Mount Everest, in 1933 and 1936, and took up sailing. In 1950, he moved to Dartmoor.
Gometra House had fallen into disrepair and parts were near collapse by the 1980s, but was reoccupied and restored as a family home in the 1990s. There are currently four households on Gometra, and the islanders are dedicated to a low-impact lifestyle, living off-grid.
Scotisland Neighbours
Scotisland Neighbours: Staffa  Erraid   Dutchman's Cap
Lical Information: Wiki    Gometra (Official!!)
Image Gallery